"You can't choose your circumstances . . . only how you respond."
Ruchi Rai is a proud wife and mother who lives in the Silicon Valley with her husband, Ashutosh, her son, Adhiraj, and their little dog, Ollie.
In a series of gripping journal entries, A Conscious Peace traces a journey back from physical and emotional devastation...
MEETING THE FIREFIGHTERS WHO GAVE ME A SECOND CHANCE
My visit to Station 34 of the San Jose Fire Department with my family in March 2016, about six years after the big rig accident, was a cathartic, cleansing experience that brought home the firefighters' commitment to saving lives in an incredibly humbling manner. We had been part of the same incident and had such different takeaways from it.
For me, the accident was a life-changing experience that I am thankful I survived. For the firefighters, it is was a lesson in preparedness for such an unusual accident that motivated them to go back to the fire station's lumber yard right after they rescued me and cut three times the number of wooden blocks to use the next time they needed to raise a big rig off a car, to write up multiple requests for specialized equipment to enable them to access the next victim in a similar situation, to get a crane attached to the back of Engine 34 so they didn't waste precious time before they could raise a truck crushing a victim they needed to save, and to have continuous drills to simulate my car accident so they wouldn't be caught off guard in another freak incident.
Their task of saving never ends, and their commitment knows no bounds.
THE BIG RIG ACCIDENT
It was Friday, December 11, 2009. I was sitting idly in my car at the freeway exit listening to music as I waited for the light to change. The prospect of enjoying the oranges and the book lying on the passenger seat beside me while I waited for my 1:30 p.m. appointment at the hospital around the corner was an enticing one. I glanced at the clock on the dashboard. It was only 1:02. Plenty of time. . . .
A thundering crash from behind, a looming darkness, and a cobwebbed rear window were all glimpsed in the split second before my car careened forward as if on ice—no friction at all. I was one with the car, but my head was not. It was being smashed into the steering wheel, repeatedly as I was pushed into several cars ahead of mine and then into the railing on the right.
A grinding halt, but no respite. It felt as though a bulldozer was crumpling my car, deliberately and relentlessly. The left door and the roof were caving down on me, and my seat was being crunched up from behind, crushing and pinning me. I wanted to shout "Stop!", I don't think I did. There was nowhere left to go, no space at all.
Then everything was still.
I found myself trapped sideways in a tangle: glass all around, car engine running next to my ears, truck engine roaring above my head, radio blasting, horns blaring, hot oil from the truck's engine was pouring down on me on my left, blood dripping down on my right.
Time went on, endlessly it seemed, and yet, it had come to a standstill.
Firefighter Kara told me in March 2016, "We were looking for a car accident, and our fire engine drove past you. We couldn't see your car and radioed back that there was no car accident. We went ahead and realized—there is a car back there, under that truck."
And they got me out.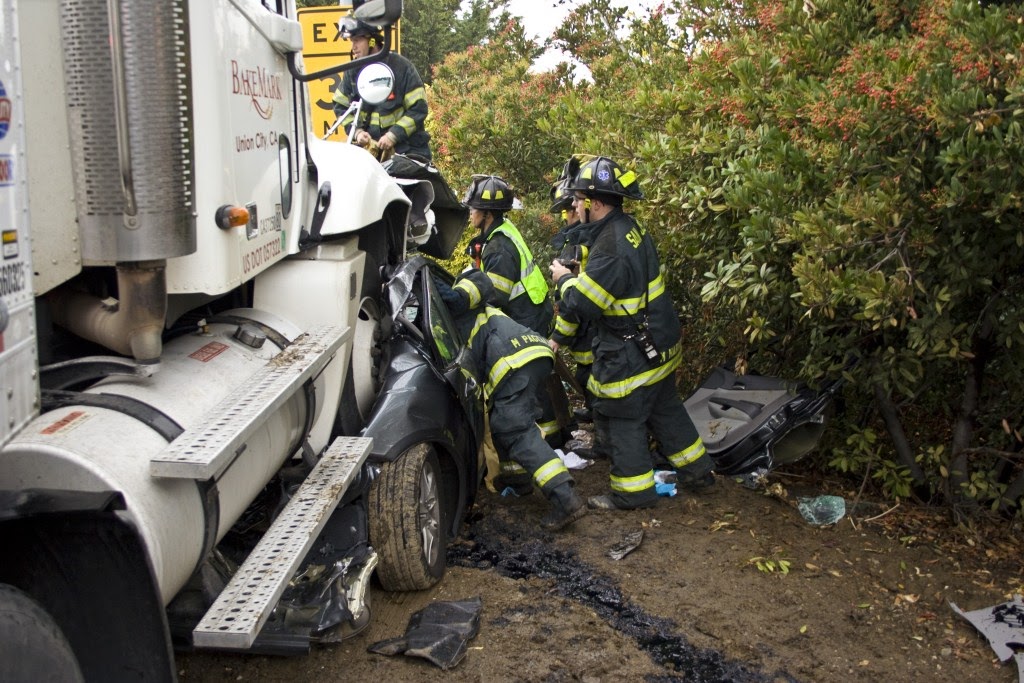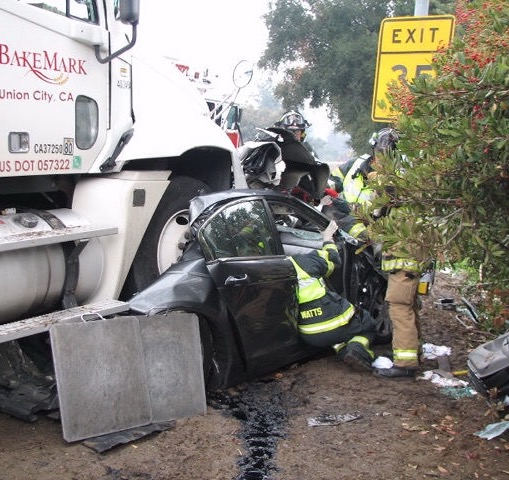 WITH GRATITUDE
For that time, those moments of struggle with life, with . . . destiny? They are one with us, totally committed and completely absorbed.
Emergency responders—firefighters.
Such selflessness, such dedication to just . . . save!
Saving not just a life but a mind. Wandering through deep, dark dungeons as it traverses the long journey between hopelessness and relief.
Offering comfort as they put their skills and strength to a single task.
How does one measure their contributions, their "hand" in being our saviors?
That scale is yet to be made, but the surge gratitude and humility is in my heart.